Serviced apartments
Kostanay
Apartments by the day Kostanay, отели и гостиницы Kostanay

5 000 tenge 15 $ 862 руб.

Rent one-bedroom apartment in the area of ​​the Law Academy and KZHBI, in a five-story house (not a small one), for the night, by the hour, in the city of Kostanay.…

3 500 tenge 10 $ 603 руб.

For a comfortable, clean, bright apartment in the city center. Nearby restaurants and shops. Fully furnished, cable TV, WI-FI internet. Always clean bedding and towels.…

4 000 tenge 12 $ 690 руб.

Clean, comfortable studio apartment. There is internet and all appliances. The apartment has everything for a comfortable stay, always clean linens, towels. Also rented…

4 500 tenge 13 $ 776 руб.

We offer for daily rent an excellent studio apartment in a good area in Kostanay. Excellent area with developed infrastructure and convenient transportation. The apartment…

4 500 tenge 13 $ 776 руб.

We offer excellent studio apartment in a good area in Kostanay. Well-developed infrastructure and convenient transportation razvzyaka, near many shops and cafes. Perhaps…

4 500 tenge 13 $ 776 руб.

We offer for daily rent an excellent studio apartment in a good area in Kostanay. Excellent area with developed infrastructure and convenient transportation. The apartment…

6 000 tenge 18 $ 1 034 руб.

2-room apartment located on Borodina Street, not far from ChelGu. The apartment is clean and cozy. There is everything for your comfortable stay.

6 000 tenge 18 $ 1 034 руб.

Discount in march from 8000 to 5000! We offer to rent a one-bedroom apartment suites in the heart of Kostanai, near the hotel "Tourist", and a jewelry store…

8 000 tenge 24 $ 1 379 руб.

Apartment for non-smoking!!! There are plastic, warm balcony. Luxury apartment with euro repair, Wi-Fi internet, design (night New York). Tall, French ceilings, fully…

8 700 tenge 26 $ 1 500 руб.

Rent studio apartments in the city center, close to Drum Theatre, Central Square, KSU, TD "Children's World", "Atrium", "MARCH", "French…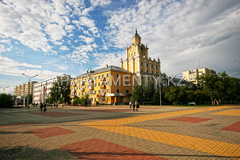 Kostanay is a city located in the North of the country. This cozy and clean regional center based Russian and Ukrainian citizens, and this gives it a feature in the form of architecture. The first place to visit should be the river Tobol. You can not only walk down the alley among the flowers and monuments, also rent paddle boats, boats and sunbath on the beach. On the left shore of the lake you can relax on the beach of recreation areas, it is more comfortable. Take a walk, have fun on the rides, participate in contests in Central Park. Walking along Gogol street you will definitely see the fairytale castle - the Kazakh-French house. At the entrance you will find the monument of Charlie Chaplin, and on the fourth floor will delight the toy museum.
APARTAMENTY.KZ company presents to all the tourists and business travellers a wide range of serviced apartments and apartments for daily rent in Kostanay, Astana, Almaty and in other cities of Kazakhstan. To rent an apartment for short-term in Kostanay you can use search field or look through a catalogue of serviced apartments. Contact telephone numbers of the hotels and apartment owners are direct.
While contacting directly to the administration of the hotel or apartment owner you can reserve a hotel room or serviced apartment in advance, ask any question or demand, discuss possible discount. At the time we create complete catalogue of the hotels that will be available really soon.
Database of the site is being updated regularly. New serviced apartments and hotels are being added constantly. The administration of this site updates the catalogue of hotels and apartments for rent to present full information for the clients.
Best regards, APARTAMENTY.KZ