Karaganda – best offers of hotels and vacation rentals
Apartments by the day Karaganda, отели и гостиницы Karaganda

5 000 tenge 15 $ 862 руб.

4 500 tenge 14 $ 776 руб.

*by booking online

Cheap apartment in the very centre of Karaganda for daily rent, for a week or night. Digital world shop is in 5 min by walk. There are all equipment for your guests…

6 000 tenge 18 $ 1 034 руб.

5 500 tenge 17 $ 948 руб.

*by booking online

Studio apartment for daily rent or for a week in the very centre of Karaganda. The apartment is furnished with modern furniture, it is equipped with all necessary…

6 000 tenge 18 $ 1 034 руб.

5 500 tenge 17 $ 948 руб.

*by booking online

Cosy apartment in the very centre of Karaganda city. CUM is nearby. We provide all necessary for you - bedding clothes, towels, slippers. You can pay by cash, by…

6 000 tenge 18 $ 1 034 руб.

5 000 tenge 15 $ 862 руб.

*by booking online

Cozy studio in the center, rent for a day, daily, weekly, for a long time, in the area of ​​mag. Jubilee. The apartment is equipped with all necessary household…

8 000 tenge 24 $ 1 379 руб.

7 000 tenge 21 $ 1 207 руб.

*by booking online

Excellent apartment lease option daily, weekly Karaganda. This cozy apartment can comfortably accommodate guests who prefer the comfort of home. The apartments…

8 000 tenge 24 $ 1 379 руб.

7 000 tenge 21 $ 1 207 руб.

*by booking online

Cozy 2 bedroom apartment in the center of the city, area of 1000 small things. In walking distance: City Mall, Central Department Store, Abzal, cafes, restaurants,…

9 000 tenge 27 $ 1 552 руб.

8 000 tenge 24 $ 1 379 руб.

*by booking online

Rent daily weekly elegant one-bedroom apartment in Karaganda. The apartment is located in the city center, convenient transportation. The apartment is furnished…

5 900 tenge 18 $ 1 017 руб.

Fresh renovation. Plasma-TV. Pure Luxury apartment located in the center right of the bowling "Arman". The apartment has everything you need for up to two…

5 990 tenge 18 $ 1 033 руб.

Luxury apartments for rent in the center of design after the euro-repair (borough TD AZAT, Obl.akimat, Erubaev 48/1). Wi-Fi, LED-TV, titanium, Buch. documentation. Near…

5 990 tenge 18 $ 1 033 руб.

Luxury apartments for rent after design repair in the center (borough Bowling "Arman"). Accounting documents. Wi-Fi, a large LED 3D TV, cable, titanium. Clean,…

6 000 tenge 18 $ 1 034 руб.

Rent 1 room. apartment in the center of Karaganda, the apartment is clean, warm, cozy, refrigerator, gas. stove, microwave, DVD, WiFi 4G, fully furnished. Fiscal receipt,…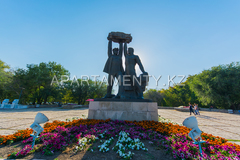 Where, where? In Karaganda! Karaganda is known far outside Kazakhstan. And not only because of the famous expression. Karaganda is a mining town with a great history. In times of repression Karaganda became a city of writers, scientists, artists and doctors. Now Karaganda is a scientific, historical and industrial center of the country. Here there are more and more cafes and restaurants, theatres and interesting places to visit. Main street is considered the street Bukhar-Zhyrau. Exploring the city is best to start with a stroll through the Bukhar-Zhyrau. In Central Park the adventurous can ride the attractions.
APARTAMENTY.KZ company presents to all the tourists and business travellers a wide range of serviced apartments and apartments for daily rent in Karaganda, Astana, Almaty and in other cities of Kazakhstan. To rent an apartment for short-term in Karaganda you can use search field or look through a catalogue of serviced apartments. Contact telephone numbers of the hotels and apartment owners are direct.
While contacting directly to the administration of the hotel or apartment owner you can reserve a hotel room or serviced apartment in advance, ask any question or demand, discuss possible discount. At the time we create complete catalogue of the hotels that will be available really soon.
Database of the site is being updated regularly. New serviced apartments and hotels are being added constantly. The administration of this site updates the catalogue of hotels and apartments for rent to present full information for the clients.
Best regards, APARTAMENTY.KZ