Serviced apartments in Almaty

, Daily rent apartments
Apartments by the day Almaty, отели и гостиницы Almaty

17 000 tenge 51 $ 2 931 руб.

16 000 tenge 48 $ 2 759 руб.

*by booking online

Inexpensive apartment in Almaty by the day and the week. The apartment can be booked online at a discount and rent for 2-3 days in the center of Almaty. From the…

9 500 tenge 28 $ 1 638 руб.

9 000 tenge 27 $ 1 552 руб.

*by booking online

Inexpensive 2 rooms. apartment daily, weekly, in the city center. The apartment has everything you need - home appliances, cooking utensils, all the necessary furniture,…

10 000 tenge 30 $ 1 724 руб.

9 000 tenge 27 $ 1 552 руб.

*by booking online

Rent a cozy one-bedroom apartment in the city of Almaty, in the district Samal-2, Nurlytau. The apartment has everything necessary for comfortable living. Developed…

11 000 tenge 33 $ 1 897 руб.

10 000 tenge 30 $ 1 724 руб.

*by booking online

Cozy studio apartment, located in the heart of Almaty, near the Arbat, Department Store, Shopping Center Passage, 28 Panfilov Park. Zhybek Zholy metro station.…

12 000 tenge 36 $ 2 069 руб.

11 000 tenge 33 $ 1 897 руб.

*by booking online

Modern studio apartment in a prestigious district of Almaty, Kazakhstan on the other hand. Equipped with all appliances for a long stay, a cozy and comfortable…

12 500 tenge 37 $ 2 155 руб.

11 500 tenge 34 $ 1 983 руб.

*by booking online

Excellent one-bedroom apartment for rent daily, weekly, renovated in the center of Almaty. Nearby you will find: Metro station "Zhibek Zholy" supermarket…

13 000 tenge 39 $ 2 241 руб.

12 000 tenge 36 $ 2 069 руб.

*by booking online

Cozy one bedroom apartment for a day, a week, spend the night in the center of Almaty, near the hotel Kazakhstan, Panfilov Park. Apartments for rent you can rent…

13 500 tenge 40 $ 2 328 руб.

12 500 tenge 37 $ 2 155 руб.

*by booking online

For rent two-bedroom apartment in the city of Almaty, in the district Samal-2, Dostyk Plaza. The apartment has everything necessary for comfortable living and business…

13 500 tenge 40 $ 2 328 руб.

12 000 tenge 36 $ 2 069 руб.

*by booking online

Cozy 2 bedroom apartment in the center of Old town. The Palace of Republic, Republic Square, Dostyk Plaza, KIMEP, the Academy of Sciences, Gorky Park, 28 Panfilov's…

13 500 tenge 40 $ 2 328 руб.

12 500 tenge 37 $ 2 155 руб.

*by booking online

For one-bedroom apartment in the city of Almaty, in the district Samal-2, Dostyk Plaza. The apartment has everything necessary for comfortable living and business…

14 000 tenge 42 $ 2 414 руб.

12 500 tenge 37 $ 2 155 руб.

*by booking online

Cozy one bedroom apartment for daily and weekly rent in the center of Almaty is waiting for its guests! All within walking distance - shopping centers, cafes, restaurants,…

14 000 tenge 42 $ 2 414 руб.

13 000 tenge 39 $ 2 241 руб.

*by booking online

Spacious apartment for daily rent, for a week in the center of Almaty equipped with everything for comfortable living. In the presence of all appliances: refrigerator,…

14 500 tenge 43 $ 2 500 руб.

13 500 tenge 40 $ 2 328 руб.

*by booking online

Warm apartment for weekly / daily rent in the center of Almaty. All within walking distance - shopping malls, cafes, restaurants, and Karaoke lounge. Opposite the…

18 000 tenge 54 $ 3 103 руб.

17 500 tenge 52 $ 3 017 руб.

*by booking online

Excellent two-bedroom apartment in Almaty Towers with panoramic views of the mountains and Kok Tob. Within walking distance of KIMEP, UIB, SEC Dostyk Plaza, Kazakhtelecom,…

12 000 tenge 36 $ 2 069 руб.

We rent an apartment for guests of Almaty and travelers, in the heart of the city (at the intersection of Lenin - Kalinina) in the new house (2011). Gorgeous view from…

10 000 tenge 30 $ 1 724 руб.

Clean and cozy apartment. Freshly renovated. Very comfortable and pleasant interior. The apartment has all the necessary appliances and utensils for cooking and eating,…

10 000 tenge 30 $ 1 724 руб.

The apartment is renovated. Lovely area. The apartment has all the necessary appliances and utensils for cooking and eating, bed linen, towels and slippers. Cable TV.…

11 000 tenge 33 $ 1 897 руб.

The apartment is renovated. Very bright and clean. The apartment has all the necessary appliances and utensils for cooking and eating, towels and slippers. Extra bed…

11 000 tenge 33 $ 1 897 руб.

Clean bright apartment after an overhaul. The apartment has all the necessary appliances and utensils for cooking and eating, towels and slippers. Iron, ironing board…

12 000 tenge 36 $ 2 069 руб.

Rent one-bedroom apartment in the city center. In walking distance are Central Park, the zoo, the park is 28 Panfilov, Green Bazaar, Arbat, CUM, bathing complex "Arasan"…

12 000 tenge 36 $ 2 069 руб.

Wonderful apartment. Great view of the mountains. Keremet - a residential complex with a very developed its own infrastructure. On campus there are: supermarket, cafes,…

13 000 tenge 39 $ 2 241 руб.

Clean comfortable apartment. Fresh repair. Very comfortable and pleasant interior. The apartment has all the necessary appliances and utensils for cooking and eating…

15 000 tenge 45 $ 2 586 руб.

Very cozy apartment in one of the most prestigious residential complexes of Almaty. Perfect cleanliness and comfort. Full equipment.

15 000 tenge 45 $ 2 586 руб.

Clean bright and cozy apartment after repair. It is in good convenient and safe area. Cable TV. The Internet. Intercom. Lit staircase and yard. Cashless payment is possible.…

17 000 tenge 51 $ 2 931 руб.

The author's design of this apartment for daily rent in Almaty will appeal to the guests and residents of our city. The apartment can be rented for a day or a week,…

8 000 tenge 24 $ 1 379 руб.

One-room apartment for daily rent in Almaty. Do not give up by the clock and for events. The cost of renting an apartment - from 1 to 4 days - 8000 tenge per day, when…

7 000 tenge 21 $ 1 207 руб.

Clean and very comfortable apartment in an ecologically clean area of ​​the city. A beautiful view of the mountains, a quiet area and fresh air - that's what awaits…

7 000 tenge 21 $ 1 207 руб.

One-room apartment by the day, weekly. The apartment is located in the city center. When renting for a long term, discounts are possible. Check-out time is 12.00 (if…

7 500 tenge 22 $ 1 293 руб.

Daily rent apartment in Almaty. The apartment is a 10-minute walk from the Circus, Central Stadium, Centre, Botanical Garden, shopping centers Promenade, Globe, Karkar,…

12 000 tenge 36 $ 2 069 руб.

Residential Complex Sunny quarter. Lovely apartment in perfect condition! Good repair, new furniture. Security, video surveillance, intercom. Excellent location. 5 minutes…

12 000 tenge 36 $ 2 069 руб.

Very warm and comfortable apartment with stunning views of the city and mountains, where you will find peace and inspiration for new achievements! The apartment is located…

13 000 tenge 39 $ 2 241 руб.

Beautiful apartment in perfect condition! Good repair, new furniture. Excellent location. Nearby (5 minutes walk) most elite shopping mall Esentai Mall, International…

13 000 tenge 39 $ 2 241 руб.

Two-bedroom apartment for daily rent in Almaty, The apartment has everything you need for comfortable living and business meetings. Developed infrastructure. Nearby:…

14 000 tenge 42 $ 2 414 руб.

Daily rent one-bedroom apartment in a residential complex "Sunkar" is located in a prime area of the city of Almaty, with developed infrastructure and convenient…

14 000 tenge 42 $ 2 414 руб.

Spacious apartment in the "Golden Square" in Almaty. Very close: the hotel "Rixos", Dinamo stadium, a cinema "Tselinny" Mega Park, St.…

15 000 tenge 45 $ 2 586 руб.

Rent of 2-bedroom apartment in Almaty. Cozy and comfortable, convenient location in the center at the intersection Kunaeva - Jambul. Renovation (architectural design),…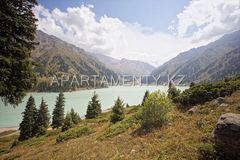 Alma-Ata – is the city living the separate life. It is cultural, historical and financial center of the country. You can't even choose a certain hallmark of Almaty, too many of them. In Almaty there take place meetings of heads of states, the international conferences, cultural actions, concerts of world stars and the international sports competitions. Coming to this sunny city surely walk on the local Arbat on Zhibek Zholy Street, go to the Botanical garden, Gorky Park and Park of the First President. For acquaintance to history and culture visit Park of 28 heroes Panfilov's men and a unique monument of wooden constructions Sacred Voznesensky Orthodox cathedral. You will never be bored on Arbat.
APARTAMENTY.KZ company helps all the tourists and business travellers to rent serviced apartments and apartments for short term rent in Almaty, Astana and other cities of Kazakhstan. To find an appropriate option you can use search field or look through a catalogue of serviced apartments.

While contacting directly to the administration of the hotel or serviced apartment owner you can reserve a hotel room or apartment for daily rent in Astana, ask any question or demand, discuss possible discount. There is a possibility of accomodation in the hotels of Astana and Almaty.


Database of the site is being updated regularly. New serviced apartments and hotels are being added constantly. The administration of this site updates the catalogue of hotels and apartments for rent to present full information for the clients.


Best regards, APARTAMENTY.KZ | Hotels, serviced apartments in Almaty